Lagrange Rising
(Visit Amazon for Kindle & Paperback)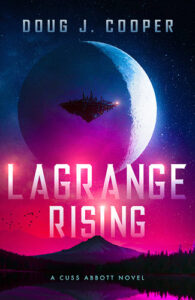 Imagine Jack Reacher or Harry Bosch or Lucas Davenport investigating crime in a space city of two million residents, with chases taking them across worlds, their quarry defeating technology of the future to commit what remains the most horrific offense today: murder.
Meet Cuss Abbott, Interworld Marshal, in his debut story, written in the same compelling style as the popular series mentioned above. Lagrange Rising is a fun read. Fast paced. Edgier than my other books.
Blurb for Lagrange Rising (Book 1)
The bodies of wealthy seniors are being dumped in Lagrange, their ID implants cut from their skulls, their bank accounts emptied. Authorities learn that the elderly victims were snatched from Nova Terra on the Moon. Lagrange is a sovereign nation, a massive space structure orbiting between Earth and the Moon, so the chilling crimes fall under the purview of the Interworld Marshals Service. Cuss Abbott, a resourceful and tenacious investigator, starts the case with few clues, a rising body count, and politicians demanding answers. The criminals are seemingly invisible, disappearing after each heinous act. Shadowed by his partner, an enhanced human named Ygo, Cuss corners the butchers, setting in motion a confrontation with tragic results. Distraught, he bulls ahead, pursuing the killers across worlds to a suspense-filled showdown.

Crystal Series
Visit Amazon for Kindle & Paperback
Blurb for Crystal Deception (Book 1)
Criss lives in a special kind of prison. He can see and hear everything around the world, yet a mesh restrains his reach, forcing his cooperation. His creator, Dr. Jessica Tallette, believes his special abilities offer great promise for humanity. But she fears the consequences of freeing him, because Criss, a sentient artificial intelligence with the intellect of a thousand humans, is too powerful to control. Tallette's world is upended when the Kardish, a race of alien traders, announce that they want Criss for themselves, expressing their desires with ominous undertones. She turns to the Union of Nations for help, and they task Sid, a special agent, with leading the response. Sid believes that Criss is Earth's greatest weapon and asks him to confront the Kardish. But can the AI be trusted? And what is humanity's role if an interstellar battle among titans starts to rage?

Bump Time Trilogy
Visit Amazon for Kindle & Paperback
Blurb for Bump Time Origin (Book 1)
On his twenty-fifth birthday, Diesel Lagerford is visited by a twenty-six-year-old version of himself. His look-alike spins impossible tales of their shared future, claiming they have dozens of "brothers" from parallel timelines who can visit each other using a T-box, a machine they bankroll with lottery winnings. He introduces Diesel to the incredible Lilah Spencer, the T-box operator, and Diesel falls head-over-heels in love. But during his travels across timelines, Diesel learns that Lilah will soon die under suspicious circumstances. Devastated, he joins his brothers in a race to save her. Can they solve the mystery of her death before it's too late? And will their unusual solution play out over time in the ways they had anticipated?

Free Book for Newsletter Subscribers
Crystal Horizon is a free gift for newsletter subscribers. This mini-adventure is a perfect treat for fans to reconnect with favorite characters, and a great stand-alone story for new readers. Sign up and receive the download link.

Social Media
– Send me a friend request on Goodreads.
– Follow me for tweets about books and authors on Twitter.
Recent Podcasts
– Meet the Author podcast, with hosts Joan & Rob Carter recorded May 2022 – watch on youtube
– Alternate Futures podcast with host Edwin Rydberg recorded March 2022 – listen on anchor.fm

I'd Love to Hear From You
Contact me and let me know what's on your mind.
Happy reading!
Doug J. Cooper
doug(at)crystalseries.com
Note: replace the (at) with @ above – I write it this way to prevent internet robots from using it to spam me.