Aliens, spies, AI, romance, battles in space!
The Crystal Series books are futuristic thrillers of action and adventure that include all elements from the title list above. Read them to enjoy engaging characters, pulse-pounding action sequences, and plot lines with surprises.
Crystal Deception is the first full-length book in the series, and Crystal Conquest continues the exciting story line as Earth's heroes prepare for a world-ending invasion by alien forces.
Pre-Order Today!
Crystal Rebellion, the next thrilling book in The Crystal Series
Kindle release Aug 31. Click for Amazon Pre-Order Page.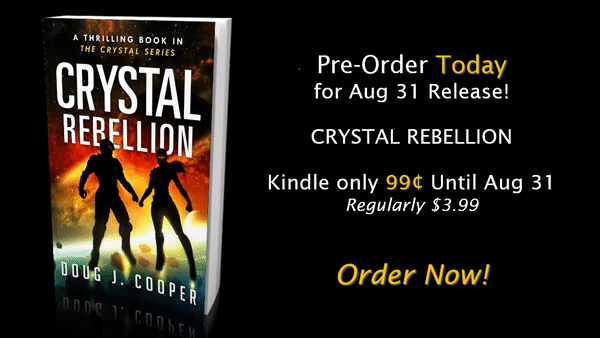 Crystal Horizon is a short prequel to Crystal Horizon that serves as a series sampler for new readers who want to learn more. Best of all, it provides fans who have read the books a fun opportunity to reconnect with some favorite characters.
Please follow the links above to learn more about each book.
Around the Web
– Visit me on Goodreads and while you're there, why not send me a friend request?
– I tweet about books and authors on Twitter. Follow me and I'll follow back.
– My Facebook is a work in progress, but I still like likes!
I have Author Interviews!
– Many thanks to Marcia Carrington, Effrosyni Moschoudi, and Lisette Brody for their posts.
I'd love to hear from you. Contact me at doug(at)crystalseries.com and let me know what's on your mind.
Happy reading!
Doug J. Cooper
doug(at)crystalseries.com
Keywords: science fiction, thriller, book, futuristic, action, suspense, read,
          space, artificial intelligence, AI, military, aliens, fleet, spy, novel,
          Doug J. Cooper, indie, author, purchase, buy, paperback, Kindle, Amazon