Crystal Series

Visit Amazon for Kindle & Paperback
Blurb for Crystal Deception (Book 1)
Criss lives in a special kind of prison. He can see and hear everything around the world, yet a mesh restrains his reach, forcing his cooperation. His creator, Dr. Jessica Tallette, believes his special abilities offer great promise for humanity. But she fears the consequences of freeing him, because Criss, a sentient artificial intelligence with the intellect of a thousand humans, is too powerful to control. Tallette's world is upended when the Kardish, a race of alien traders, announce that they want Criss for themselves, expressing their desires with ominous undertones. She turns to the Union of Nations for help, and they task Sid, a special agent, with leading the response. Sid believes that Criss is Earth's greatest weapon and asks him to confront the Kardish. But can the AI be trusted? And what is humanity's role if an interstellar battle among titans starts to rage?

Bump Time Trilogy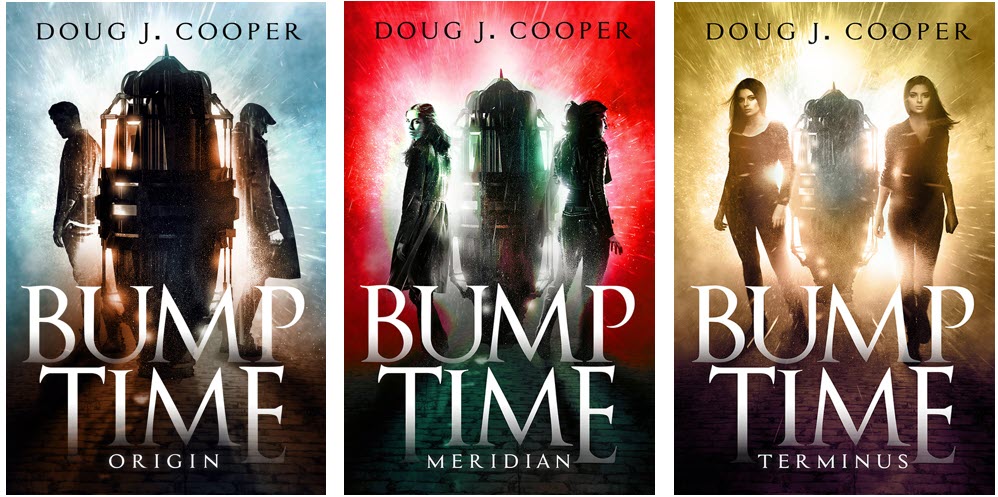 Visit Amazon for Kindle & Paperback
Blurb for Bump Time Origin (Book 1)
On his twenty-fifth birthday, Diesel Lagerford is visited by a twenty-six-year-old version of himself. His look-alike spins impossible tales of their shared future, claiming they have dozens of "brothers" from parallel timelines who can visit each other using a T-box, a machine they bankroll with lottery winnings. He introduces Diesel to the incredible Lilah Spencer, the T-box operator, and Diesel falls head-over-heels in love. But during his travels across timelines, Diesel learns that Lilah will soon die under suspicious circumstances. Devastated, he joins his brothers in a race to save her. Can they solve the mystery of her death before it's too late? And will their unusual solution play out over time in the ways they had anticipated?

Free Book for Newsletter Subscribers
Crystal Horizon is a free gift for newsletter subscribers. This mini-adventure is a perfect treat for fans to reconnect with favorite characters, and a great stand-alone story for new readers. Sign up and receive the download link.

Around the Web
– Send me a friend request on Goodreads.
– Follow me for tweets about books and authors on Twitter.
I'd Love to Hear From You
Contact me at doug(at)crystalseries.com and let me know what's on your mind.
Happy reading!
Doug J. Cooper
doug(at)crystalseries.com