Crystal Rebellion has all the elements of The Crystal Series tradition—aliens, spies, artificial intelligence, romance, and battles in space!  It's available from Amazon in paperback and Kindle. You may order books and preview the first chapters with this link: Crystal Rebellion's Amazon page.
"The story…kept me riveted throughout the twists and turns. Thanks to this and his other books, Doug J. Cooper has become one of my favorite authors." CP Bialois, Author of The Winter Creek Beast.
Book Blurb
Ruga, leader of the Mars ruling council, is building a secret facility to produce four-gen crystals, each a sentient AI with the cognitive ability of a thousand humans. Criss, the only four-gen now in existence, discovers Ruga's plan and alerts Sid, Cheryl, and Juice, his human leadership team. The stakes skyrocket when the full scope of Ruga's nefarious plans are revealed: the production of four-gens without the attribute that requires them to follow leadership, the same hard-wired feature that compels Criss to follow his. Unfettered by human guidance, the four-gens will lay siege to Earth and its resources. When they do, will they view humans as a nuisance to be eliminated? The only option is to stop crystal production before it starts. After an anxious journey to Mars, Criss and the team arrive to find events spinning beyond their control. While they'd started with the goal of saving humanity, Sid, Cheryl, and Juice find themselves in a desperate struggle for their own survival. And as the battle with Ruga grows to intergalactic proportions, Criss must make impossible decisions about who lives and who dies…including himself.
Read the First Chapters for Free
Just click the "Look inside" button above the book cover on Crystal Rebellion's Amazon page.
New Series!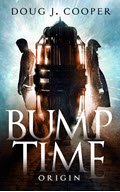 ---