Crystal Deception is available from Amazon in paperback and Kindle. You may order books and preview the first chapters by clicking this link: Crystal Deception's Amazon page.
"I almost forgot how much fun one of these adventure novels could be. Thankfully, Doug J. Cooper has reminded me big time!" David T. Wolf, Author of Mindclone.
Book Blurb
Sid, a covert warrior for the Union of Nations, must sneak Criss, the Union's new sentient AI, aboard the Kardish space ship looming in orbit above Earth. Once inside, they are to identify weaknesses in the alien defenses. The plan is for Criss to be transported into space on a vessel captained by ace pilot Cheryl Wallace, who will use stealth tactics to approach the ship. But the Kardish detect the team, capture Cheryl, and start for interstellar space. Sid's ship can't keep pace with the alien craft, so in desperation, he yields all control to the AI. As they chase the Kardish through the solar system, can Criss devise a way to catch the technologically dominant aliens? Will he risk his own life to save Cheryl's? And in the end, can the team make it home alive?
"I enjoyed the story with all its subplots. The characters, even Criss, seemed real….Kudos for originality to Mr. Cooper!"  Jane V. Blanchard – author of Women of the Way: Embracing the Camino
Read the First Chapters for Free
Just click the "Look inside" button above the book cover on Crystal Deception's Amazon page.
New Series!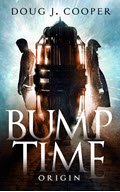 ---