Crystal Deception is available from Amazon in paperback and Kindle. You may order books and preview the first chapters by clicking this link: Crystal Deception's Amazon page.
"I almost forgot how much fun one of these adventure novels could be. Thankfully, Doug J. Cooper has reminded me big time!" David T. Wolf, Author of Mindclone.
Book Blurb
Juice Tallette believes her latest creation holds great promise for humanity, yet she hesitates to release him into the world. That's because Criss, an AI with the intellect of a thousand humans, is too powerful to control. Days after his awakening, Criss alarms Juice with news of his impending abduction, and pleads for her protection. He claims that the Kardish—alien traders with a spaceship now lurking in orbit—have a kidnapping plan already in motion. But is Criss telling the truth, or is this a scheme to gain his freedom? Can Earth even protect Criss from the Kardish, or should he be sacrificed to avoid confrontation with technologically dominant aliens? One government agent promotes turning the hyper-intelligent AI into a doomsday weapon and confronting the aliens in space. But can Criss be trusted to cooperate? And what becomes of humanity if an interstellar battle among titans starts to rage?
"I enjoyed the story with all its subplots. The characters, even Criss, seemed real….Kudos for originality to Mr. Cooper!"  Jane V. Blanchard – author of Women of the Way: Embracing the Camino
Read the First Chapters for Free
Just click the "Look inside" button above the book cover on Crystal Deception's Amazon page.
New Release!
Coming May 7, 2019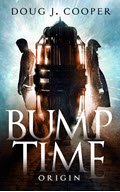 ---